Pierce County Workforce Development Programs Support Business
Northeast Community College is an incredible workforce development partner. They begin working with students in high school and provide training for people in all stages of life. Pierce County Economic Development will often work with them to coordinate training programs and create opportunities for businesses to hire the skilled talent they need.
Workforce Development Partnerships in Action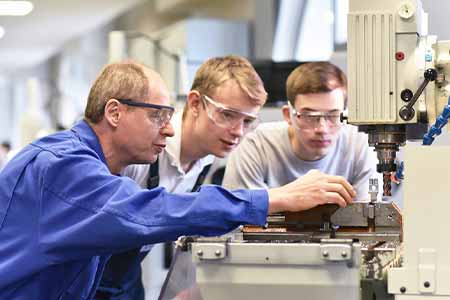 As an example, when West-Hodson Lumber and Concrete realized their workforce was aging, they spoke with PCED about the need to hire new CDL drivers. PCED worked with Northeast Community College to build a talent pipeline. CDL classes start every eight weeks. Instructors identify one or two kids who stand out, inform West-Hodson (or any interested business) and the business will pay for the student's classes. To receive the free tuition, students sign a 24 month work agreement, providing companies with the talent they need. "West-Hodson has so much loyalty that drivers are 55+ and now looking to retire so they need to bring in more young workers," said Susan Norris, PCED Executive Director. "Once people start at West-Hodson they want to stay so this is an excellent way for them to build a long term workforce."
Another example of workforce development partnerships is occurring at the high school level. In Pierce, they redid an Industrial Tech training center, investing $85,000 to renovate the tech wing of the school. PCED partnered with Nucor who provided a grant to purchase CNC Machines. They also helped to set the curriculum and are sending employees to assist in training the students. Now, Nucor is hiring students right out of high school who have already been trained on how to use their equipment.
Plainview Schools created an internship program to partner with local businesses. Juniors and Seniors leave school on Friday to intern with a local business (could be a hospital, small business, etc.). They work in the business and learn. They can switch from Junior to Senior year to work with a different business for more experience. This program is entirely free to the business owner and helps to ease any workforce shortages while building a future talent pipeline.
Northeast Community College has a Friday's at Northeast program where high schools can send students on Friday. If they go on Fridays only for two years they graduate high school with a two-year degree. In addition, students who wish to take AP courses at Northeast Community College can do so at no cost.
In addition, Northeast Community College provides A.P classes free to all area high school students for the 2023-2024 academic year.